George Willard "set forth upon an adventure." He leaves the Winesburg Eagle office in the evening to meet Louise Trunnion on a date, who'd sent him a one-line letter: "I'm yours if you want me." She's gossiped about around town. A loose woman. "In his heart there was no sympathy for her." It's a lugubrious evening of shadows and flitting glances, but also a walk through town, giving the reader an increasingly sharp picture of Winesburg's shops, its streets, its people–all those people who won't know. They go toward a field. All is as suggestive as unwitting flirts. Unsure at first, he becomes more daring until his boldest advance: "There won't be anyone know anything." I'm reminded of the lines in Roth's Human Stain: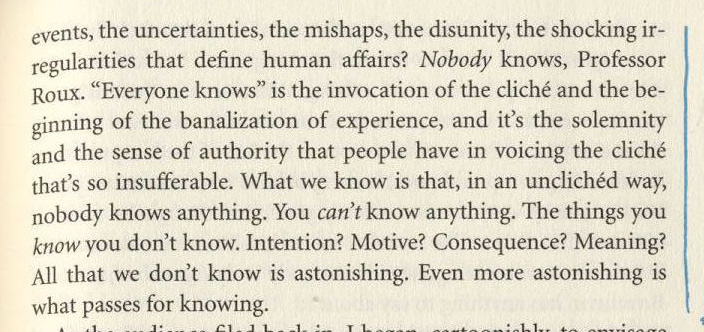 George can't know anything. The girl doesn't know anything. He treats her with the indifference of not knowing, but rather wanting, and wanting one thing: to fuck, even if "she must have rubbed her nose with her finger after she had been handling some of the kitchen pots." He's not interested in what she needs, starting with not being made to feel inferior to the boor. Afterward he walks around town unable to contain himself, wanting "more than anything else to talk to some man," to boast without having to boast. He's just lost his virginity, a transaction, nothing more: "She hasn't got anything on me. Nobody knows." Again a proleptic echo of the Roth line: "For all that the world is full of people who go around believing they've got you or your neighbor figured out, there really is no bottom to what is not known. The truth about us is endless. As are the lies." Easy to judge though, especially from the post-sexual envelope of the MeToo era, that turning of the tables on the Salem trials, albeit with a bit more evidence on the judges' side.
The story was not published in a magazine.