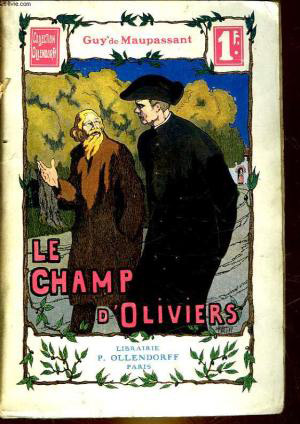 L'abbé Vilbois, curé de Garandou, près de Toulon, "…fait pour les aventures plus que pour dire la messe," "l'homme le mieux musclé du pays," "il renonça à des projets de carrière quelconque pour se contenter de vivre en homme riche." He'd been in love with a woman who cheated on him, but was pregnant. And so, "un descendant de lui était là, dans cette chair souillée, dans ce corps vil, dans cette créature immonde, un enfant de lui." But she tells him, as he gets ready to kill her, that the baby is not his. He's convinced that it isn't, and let's her go. He despairs. "La religion qui lui était apparue autrefois comme un refuge contre la vie inconnue, lui apparaissait maintenant comme un refuge contre la vie trompeuse et torturante." He becomes a priest in a small coastal town. "Il fut un prêtre à vues étroites, mais bon, une sorte de guide religieux à tempérament de soldat, un guide de l'Église qui conduisait par force dans le droit chemin l'humanité errante, aveugle, perdue en cette forêt de la vie où tous nos instincts, nos goûts, nos désirs, sont des sentiers qui égarent. Mais beaucoup de l'homme d'autrefois restait toujours vivant en lui. Il ne cessa pas d'aimer les exercices violents, les nobles sports, les armes, et il détestait les femmes, toutes, avec une peur d'enfant devant un mystérieux danger."
His always-suspicious and paranoid servant Marguerite tells him someone was over to see him. Of course it's his son, bearing an image of himself when he was younger, when he was with his mistress, and when he looked exactly as his son does now. "C'était pour sauver sa vie, menacée par l'homme outragé, que la femme, la trompeuse et perfide femelle lui avait jeté ce mensonge. Et le mensonge avait réussi. Et un fils de lui était né, avait grandi, était devenu ce sordide coureur de routes, qui sentait le vice comme un bouc sent la bete." The boy passed for his mother's other lover's son until he was 15, when the resemblance to the priest became too obvious. The man, a senator, rejected him. Now, he's a vagabond, has "la figure de crapule."
"Entre cet homme et lui, entre son fils et lui, il commençait à sentir à présent ce cloaque des saletés morales qui sont, pour certaines âmes, de mortels poisons." What frightens the priest is his son as mirror: he is " surpris et désolé de tout ce qu'il découvrait de bas sur cette figure qui lui ressemblait tant." The boy tells his life story, how his mother kicked him out, how he stumbled into a life of crime out kept a prank tha5 resulted in multiple drownings. On her deathbed, his mother tells him who his father was. She dies. He takes his revenge on her lover, torturing him, marking him with a fire iron as if he were a convict, robb8ng him of 12,000 francs. He calls it aveng8ng his biological father. But the priest is disgusted with it all and banishes his son, granting him a small pension as long as he doesn't leave his assigned place of exile. Of course the son, Philippe-Auguste, refuses. They brawl.
The servant finds them, panics, brings a posse from town: the priest's throat is cut. The other is out cold, drunk. Everyone assumes he killed the priest. Maupassant creates more ambiguity: " l'idée ne serait venue à personne que l'abbé Vilbois, peutêtre, avait pu se donner la mort."
A little simplistic, a facile ending, not entirely satisfying: why would the priest kill himself? Because he sees his own brutality in his son? Why would his son kill his only means of survival? There's more contrivance than psychology.
Le Figaro du 19 au 23 février 1890, puis dans le recueil L'Inutile Beauté.