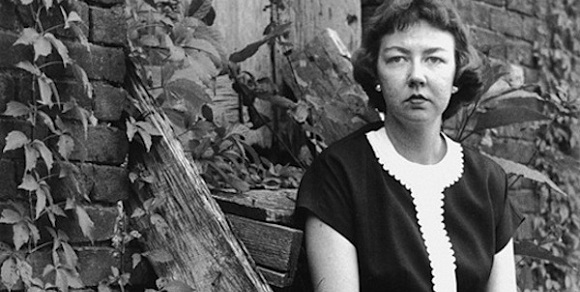 One of her startling stories, combining the breezy, the humorous, the sinister and the horrible as "Bevel," the little boy at the center of the story, moves toward a drowning. His parents party, his mom is a drunk. They hire a sitter, Mrs. Connin, to take care of Harry for the day. She claims him and tells the couple they'll be going down to the river to see Rev. Bevel Summers, an itinerant preacher. Harry, who is 4 or 5, decides to call himself Bevel, because it's funny, because Mrs. Connin doesn't know his name, because he's looking for himself, because he likes trying new worlds, the impulse that will doom him. They spend a little time at Mrs. Connin's house, an interlude with three other boys and a girl, there to set up the final scene: the boys play a trick on Bevel and frighten him by having him startle a pig that runs out from its pen and scares him. Pigs are not the cute characters of children's books after all, and he was not birthed by a doctor but by Jesus Christ, as Mrs. Connin tells him. At the river, Mrs. Connin tells the preacher that he shares the same name as the boy's, and the boy makes fun of the name as the preacher talks to him, and dunks him in the water to baptize him, and becomes angry when Harry-Bevel tells him his mom is hung over after Mrs. Connin tells the preacher to pray for her for being ill. Around the river, "this was no joke. Where he lived everything was a joke." Mrs. Connin brings him home. The couple make fun of her, or at least of the preacher, and laugh when they discover Harry has been calling himself Bevel. Mrs. Connin refuses the money. After he goes to bed, and the next day, while everyone is sleeping off their booze, Bevel (O'Connor still calls him that) walks out with money he takes from his mom's purse and goes all the way back to the river because he wants to find Christianity in its waters, dunking himself.
Mr. Paradise had been at the revival. He has cancer. He's never been healed. He made fun of the preacher and laughed when the child tells him his name. He saw Harry walk by unaccompanied, and took a stick of red and white peppermint and followed, apparently to look after him (or to seduce him, to molest him: who knows). The boy gets in the river, dunks himself, can;t feel it, keeps dunking himself, Mr. paradise comes abounding, waving the red and white stick and shouting, Bevel thinks it's a pig coming after him just like at Mrs. Connin's house and dunks down, but this time the current carries him off and he drowns, despite Mr. Paradise's efforts to find him.
Is O'Connor judging the parents on various levels—for their drinking, their intention, their making fun of Ms. Connin and the preacher? Is this O'Connor's way of taking revenge? On the boy? Seriously? The bitch once wrote that Harry "comes to a good end. He's saved from those nutty parents, a fate worse than death. He's been baptized and so he goes to his Maker; this is a good end." Fuck you, O'Connor. You're the nutty one.
From Wikipedia: "While Bevel's drowning in the river that promised him baptism and eternal life, that promised him that he would 'count' for something, is a grotesquely humorous irony, typical of O'Connor's stories, it might be pointed out that Bevel does indeed seem to experience an 'epiphany' of sorts as he is swept away to his death; 'for an instant he was overcome with surprise; then, since he was moving quickly and knew that he was getting somewhere, all his fury and his fear left him.' Baptism in christian theology has long been associated with death and christian detachment; in baptism a christian enters into the death of Christ, undergoing a 'dying to sin' and a 'dying to self.' It is perhaps this dying to self that Bevel is experiencing as 'his fury and fear leave him' and why 'he knew he was getting somewhere.'"
Sewanee Review, Spring 1953