In "The Hartleys" and "River" tradition of shocking endings, the dead one in this case not being a child, but the father of a child being born: a very small difference, as the man's suicide, so willfully orphaning the child, is a form of murder.
Nick and his father board a boat that an Indian rows to an Indian camp, with Nick's Uncle George on board as well. A woman is in a difficult labor. Nick's father will perform a cesarean. On the way to camp, Nick's father has his arm around the boy. Nick admires his father, deifies him, though his father will shatter his ability to withstand so much admiration when the gore of the operation overtakes the scene. The father of the baby is in a bunk above the scene, turning to face the wall. The woman has been screaming. His quiet is telling. The doctor celebrates the birth: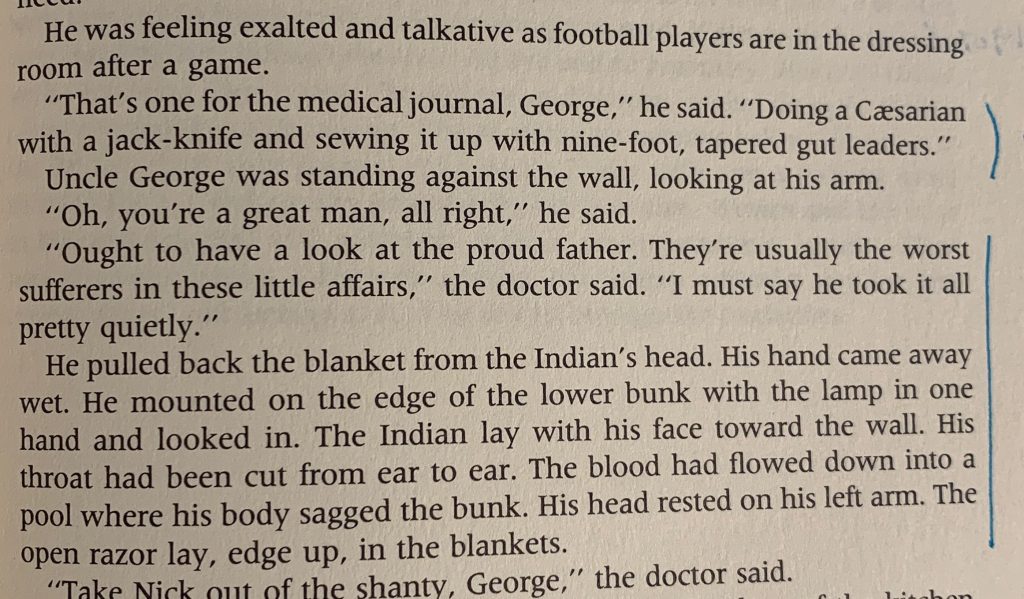 As they row out, Nick asks his daddy if dying is hard. ""No, I think it's pretty easy, Nick. It all depends." And that final, searingly beautiful image in spite and still: "In the early morning on the lake sitting in the stern of the boat with his father rowing, he felt quite sure that he would never die." The arm stretched around him at the beginning of the story.
The Indian's terror may have been Hemingway's: his wife Hadley went into labor with their first child while he was away. He was terrorized at the thought of anything going wrong and of getting there too late. He transferred the fear, and took it beyond its human limits: a literary leap that serves other purposes in the story but that still seems, in and of itself, a touch gratuitous. But then, in light of Hemingway's suicide, was it not merely premature projection? "He couldn't stand things, I guess." The woman meanwhile has no name, no face, no presence but those screams.