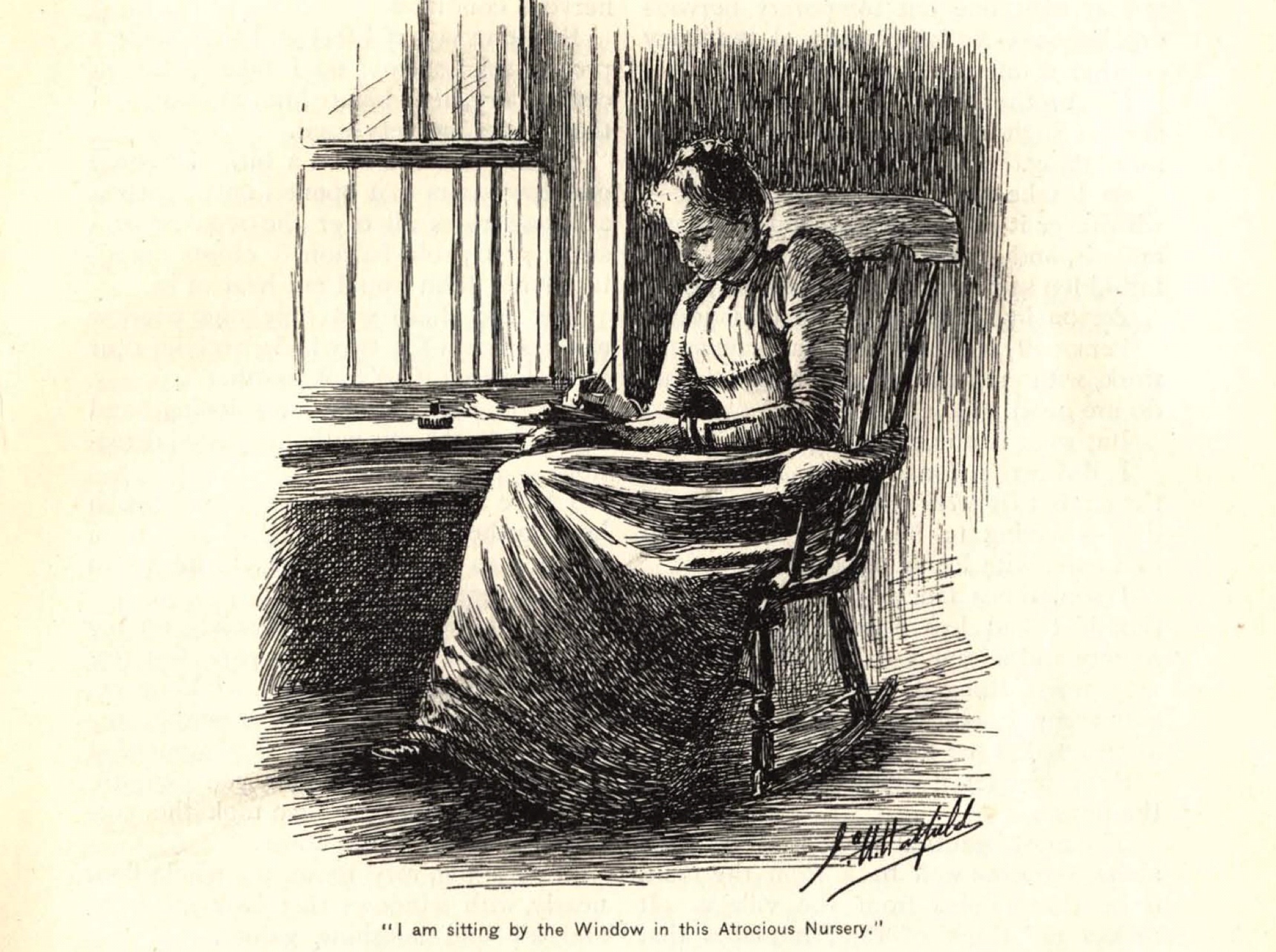 John and the narrator have rented a colonial mansion, "a hereditary estate, I would say a haunted house," where the narrator can rest from an illness her physician husband John, who "scoffs openly at any talk of things not to be left and seen and put down in figures," does not believe she has, though he is treating her and manages her hourly prescriptions. "He is very careful and loving, and hardly lets me stir without special direction." He is also controlling and patronizing. He doesn't let her have the room she wished they'd taken on the first floor. "He hates to have me write a word." All activities are discouraged. But she writes, from a room with atrocious yellow wall paper that commits "every artistic sin," and "when you follow the lame uncertain curves for a little distance they suddenly commit suicide." The narrator has just had a baby but was separated from it because of her illness. It's post-partum depression to our eyes, but to her husband and the rest of her family, it's an invention, a conceit, an indulgence, an ironic twist on the blame: it's all in your head.
Actually, it's all in the wall-paper, which gradually becomes the narrator's doors of perception. Gilman's device is simple and ingenuous. The paper is a mirror to the narrator's slow degradation as she slowly unmoors herself from John, with the occasional snide aside ("I suppose John was never nervous in his life") while the patterns in the paper take on life, little by little as if sucking the life out of her: "There is a recurrent spot where the pattern lolls like a broken neck and two bulbous eyes stare at you upside-down." At first the wallpaper oppresses her with its ugliness but then becomes her. The story's obvious limitation is the coherent narration throughout: a woman losing grasp of life as she knew it would not know to write sop lucidly. That suspension of disbelief is the accepted deal with Gilman. It can't be resolved. Although we also don;t know whether this is memoir or testament. The patterns in the wallpaper become her testament: "On a pattern like this, by daylight, there is a lack of sequence, a defiance of law, that is a constant irritant to a normal mind." She supposedly improves, at least according to how she reports John reacting, but she is only degrading further, talking about burning the house, "creeping" about the room, demolishing the paper as if to free the souls within, and herself. The paper had been a reflection of her prison, her prison a reflection of her society, starting with her husband.
The prison is still full of guards and inmates.