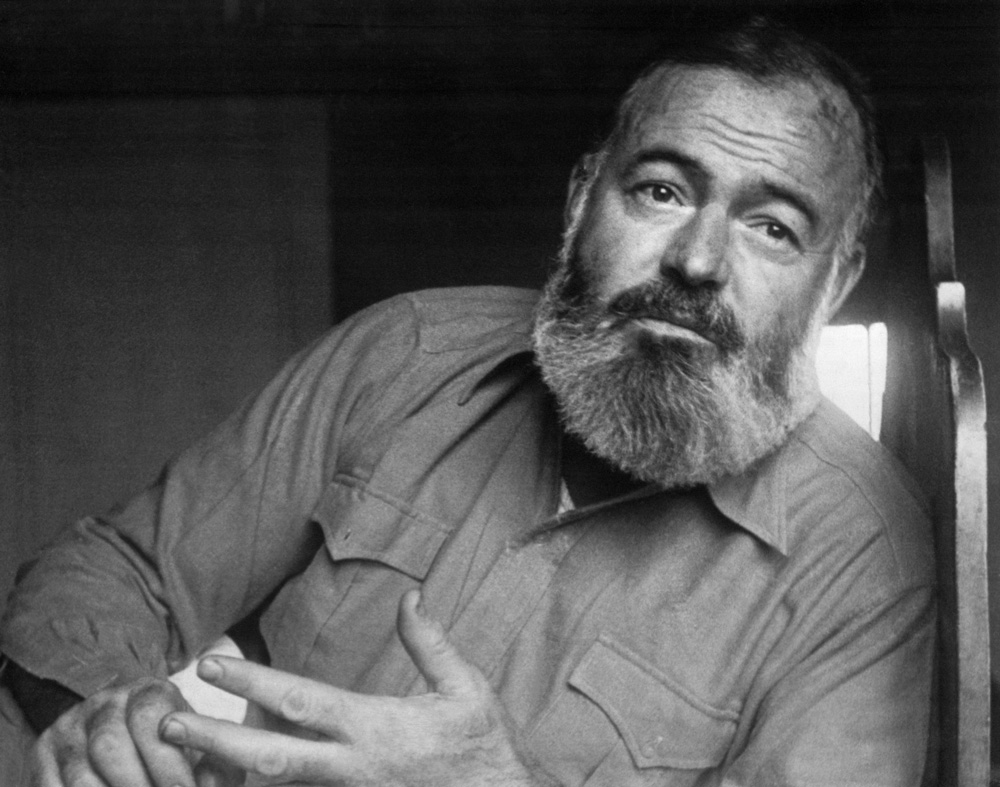 The elephant in the title, as big as the hills, as big as the elephant in the room, the white elephant: the "girl" (Hemingway's women are always "girls") is pregnant. "The American" (not just a man, certainly not a boy: The American) wants her to have an abortion, "to let the air in," as he describes the "operation," which he says isn't an operation at all really, never saying the word abortion or coming close to it. It's what, 1920s Spain? They're drinking. "That's all we do, isn't it–look at things and try new drinks?" she tells him.
She looks out and describes the hills "like white elephants," at least at first. He misses the point. He doesn't try to engage her on hers. What do you mean? What do you see? He doesn't even think of trying to see through her eyes. He says:  : 'I've never seen one," and drinks beer. Brings it back to himself. He's a narcissist. "No, you wouldn't have," she says. Again he misses the point: "Just because you say I wouldn't have doesn't prove anything." What their exchange proves is that they are talking at cross-purposes. It's a conversation between two deaf people, two people deaf to each other. He is not listening. She is not interested in listening, and will have to tell him so explicitly by the end of the story.
They talk beer. Talk drinks. They have that in common. Then he breaks it to her: "It's really an awfully simple operation, Jig." Jig? Why did Hemingway call his "girl" by a dance's name? It's not a small detail. Nor is the astoundingly dumb, even macabre, reduction of an abortion to this: "It's just to let the air in." For him, maybe. (The story is an unfortunately strong argument for anti-abortionist zealots.) It brings happiness, he tells her. Couples who do it love each other again: that is, they can fuck freely again, no baby burden. She wonders: "and things will be like they were and you'll love me?" That she has to ask whether he loves her negates his affirmation ("I love you now. You know I love you.") Clearly, so much is amiss, tragically so. Including the next revelation, almost suicidal for the "girl" and at this point murderous for the bay: "Then I'll do it. Because I don't care about me." If you don't care, I don't care. Hemingway's foresight: he is the man, nevertheless he can articulate the woman's isolation and nearing despair. The man is about what the man wants: the operation, the resumption.
Then she changes her mind about the hills like white elephants, as if to try again, prompt him to see: "They don't really look like white elephants. I just meant the coloring of their skins through the trees." But all she's done is humanize the hills even more. 
There's an exchange toward the end where she seems to want the possibility of possibilities: "we could have everything." No. The man says they can't. "Once they take it away, you never get it back." Take what away? We never know. The baby? She wants him to stop talking. She begs him to. The drink at separate tables. Her last line is damning: "There's nothing wrong with me. I feel fine." She wants the baby. She is not diseased.
The themes strengthen the story, which hints at certain sensibilities that suggest Hemingway was not entirely deaf to women's. And abortion, ever the white elephant. Hemingway executes the theme deftly, with the unsaid here sounding so loud, so painful, as it always is in these circumstances: so much of it can't be verbalized, so much of it the man in the story either doesn't want verbalized, for all his intolerable volubility, or wouldn't know how: "Just because you say I wouldn't have doesn't prove anything." But it seems to.
Transition, August 1927.