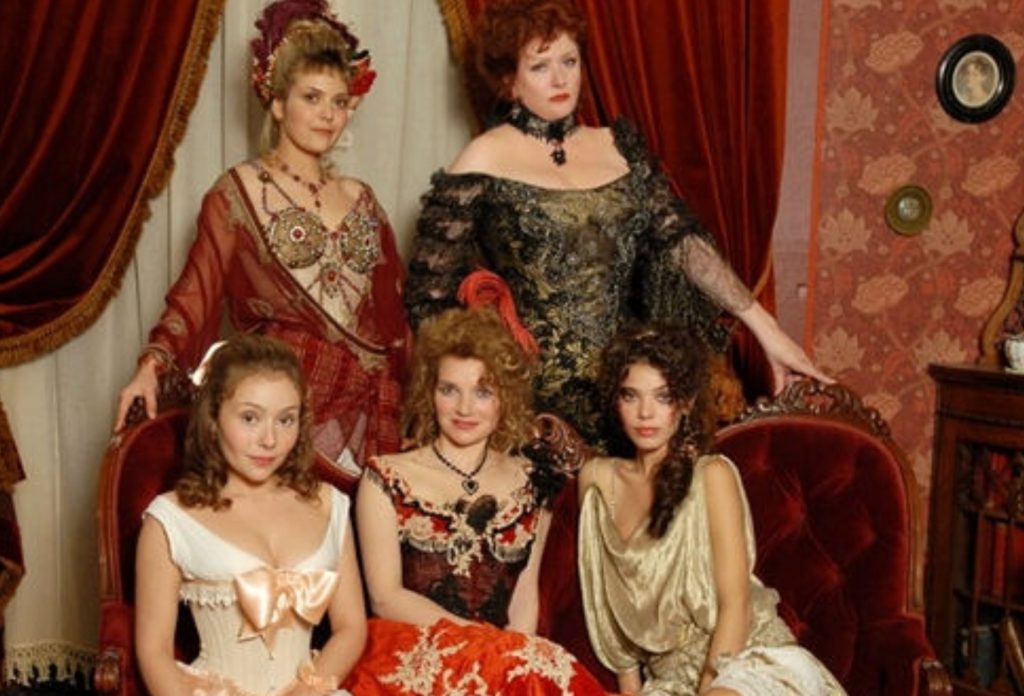 "L'on allait là, chaque soir, vers onze heures, comme au café, simplement." a house of prostitution, unremarquable, beloved, in the country. Five women and Madame, the widow and her "intarissable bonne humeur." The house is busy. Madam runs it like Cheers: everyone knows your name with complete discretion, so the bourgeois can keep coming. One night the house is shuttered. Man after man encounter each other, wander about town, their numbers and disappointment increasing proportionately. They bicker, just as a bunch of equally disappointed sailors make noise. French and British sailors brawl. The six bourgeois eventually split. "Seul, un homme errait toujours, M. Tournevau, le saleur, désolé d'attendre au prochain samedi ; et il espérait on ne sait quel hasard, ne comprenant pas, s'exaspérant que la police laissât fermer ainsi un établissement d'utilité publique qu'elle surveille et tient sous sa garde." The ostensible cause of the closure? A first communion.
No joke. Madame takes her entire brood to her brother's place for her 12-year-old niece's the ceremony. In the train, it's a whole ménage with a  jarretières salesman. Joy. He wants them to try them on. One by one they do, letting him up their legs. (Maupassant was up on his porn-acteress names even then: Flora Balançoire). Others on the train are incensed, blaming "ce satané Paris.'" At Oissel Joseph Rivet the carpenter picks up the jarretièred brood in a carriage.at The Rivets', it's a feast: whores or not, everyone is family. Or so it seems. When they all take a stroll through the village of ten homesteads, "chacun suivait longtemps du regard toutes les belles dames de la ville qui étaient venues de si loin pour la première communion de la petite à Joseph Rivet." no one knows they're whores. A superb detail: "Lorsque rentra la petite fille, ce fut sur elle une pluie de baisers ; toutes les femmes la voulaient caresser, avec ce besoin d'expansion tendre, cette habitude professionnelle de chatteries…" they pet the girl with abandon.
Then the quiet of the country night: "Les filles, accoutumées aux soirées tumultueuses du logis public, se sentaient émues par ce muet repos de la campagne endormie. Elles avaient des frissons sur la peau, non de froid, mais des frissons de solitude venus du cœur inquiet et troublé." And a daring detail: Rosa is alone. She can't sleep. She's not used to sleeping alone. She hears Constance, the girl also unused to sleeping out of her room, crying. She takes her in her bed: a substitute trick. "Et jusqu'au jour la communiante reposa son front sur le sein nu de la prostituée."
The next day, the great ceremony, the carpenter's pride, the girl's entourage on its way to the "house of God," all of them beautiful Magdalens not quite yet washing Christ's feet. The train of ironies. The village is breathless at the sight of the beauties surrounding the little girl. In church, Rosa cries, remembering her own first communion. (Isn't it always so?) it's contagious. Louise and Flora turn into Florida storms. Then Madame. Then the entire church. The comic of the scene is moving. " Hommes, femmes, vieillards, jeunes gars en blouse neuve, tous bientôt sanglotèrent, et sur leur tête semblait planer quelque chose de surhumain, une âme épandue, le souffle prodigieux d'un être invisible et tout-puissant." The sacrament is delirium. The priest turns to the congregation, calls it a miracle: "le Saint-Esprit, l'oiseau céleste, le souffle de Dieu, s'est abattu sur vous, s'est emparé de vous, vous a saisis, courbés comme des roseaux sous la brise." No doubt. The power of women: he thanks his "sisters" (the whores), "qui êtes venues de si loin, et dont la présence parmi nous, dont la foi visible, dont la piété si vive ont été pour tous un salutaire exemple. Vous êtes l'édification de ma paroisse;" (my underline of course.)
The brood must return to work. Madame atelier and her sister have a conversation about a Constance, but nothing is settled. Were they negotiating the girlks graduation to whoredom? And really, in repressive, sexist late 19th century France, what other emancipating business was there for women?
Rivet is drunk. He tries to have his way with Rosa, who laughs him off as Raphaële and Fernande hold him back. "Salope, tu ne veux pas ?" Évidemment, nonm you don't ask a doctor at a party to treat your bunions, nor do you ask a whore to tend to your repressed desires. Madame is incensed. They throw him out. He cools off with water, and the whole brood trundles back out to the train in joyous song, Rivet at the reins, "cette carriole enragée et hurlante emportée dans la poussière." They make it home, home to the whorehouse that Madame Tellier missed, "et la petite lanterne allumée, la petite lanterne de madone, indiquait aux passants que dans la bergerie le troupeau était revenu." It's another delirium in town. A judge, a former mayor, many others are horny for the women. Tourneveau can't wait. It's a debauch of a feast: whores and clients had missed each other like old and passionate lovers.
Contrasts, memories, ironies. Superb. And that unforgettable line:  Fermé pour cause de première communion."