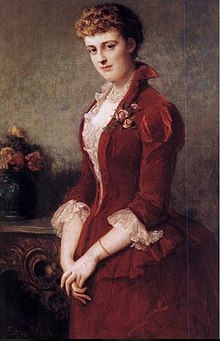 Delia and Laurence Corbett are a pair of do-nothing rich, part of that "richly upholstered and intellectually barren world," as James Mac Gregor Burns described Wharton's frequent characters. They live in Paris. It's her second marriage. Her first died, much to her pleasure: "Her husband often reminded her of the poodle, and, not having a whip or its moral equivalent to control him with, she had long since resigned herself to seeing him smudge the whiteness of her early illusions." Her aunt Mary Hayne in Boston is a hyperactive liberal advocate. She falls and gets water on the knee. Her niece decides to go to Boston to be with her–and also to show-off: "She was really very glad to be returning to Boston as Corbett's wife; her occasional appearances there as Mrs. Benson had been so eminently unsatisfactory to herself and her relatives that she naturally desired to efface them by so triumphal a re-entry." Mrs. Hayne's over-activity is a burdensome contrast to Delia's laziness. " In its light her own life seemed vacuous, her husband's aims trivial as the subtleties." More burdensome is the question her aunt asks Delia: what did your husband do in the Civil War war? Nothing. Why? "I really don't know," she said, coldly. "I never asked him." How could she possibly not? Because she was an indolent northerner who couldn't give a shit. It would not have happened in the South, or in any northern family affected by the war (in the 99 percent):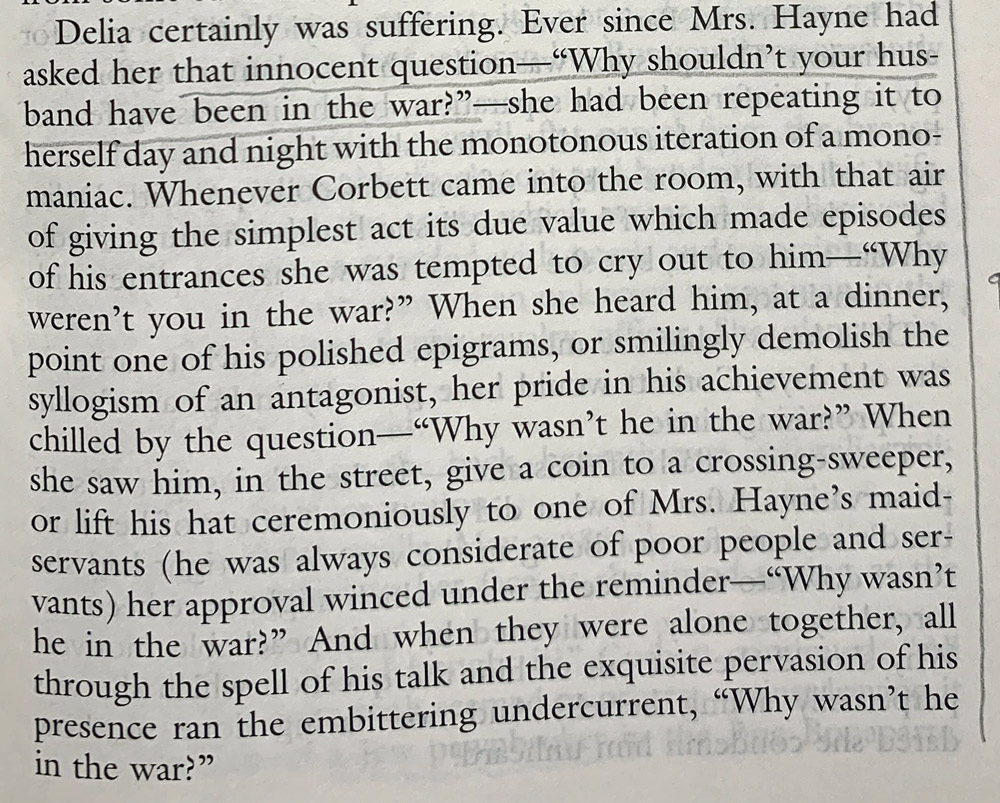 But the matter weighs on her heavily enough that it pushes her back to Paris, where she thinks the "torment of the question," and not knowing Corbett's own answer, would dissipate. It does not. Corbett himself triggers the confrontation when he comes home with the framed picture of a soldier killed at Chancellorville, picked up in a little shop on Rue Bonaparte. He meant it as a present for his wife. The gesture has all the elegance of the goon who piously cheers the war wounded on display at an NFL game. His wife feigns being touched, but the gesture begs the question, which she poses directly. He answers it astoundingly: "I don;t think I know." And: "Well — it all happened some time ago," he answered, still smiling, "and the truth is that I've completely forgotten the excellent reasons that I doubtless had at the time for remaining at home." That home strikes as the loudest Berlioz-like knell of his cowardice. She calls him a coward. The picture drops, breaks its crystal cover. She later apologizes. "Her ideal of him was shivered like the crystal above the miniature of the warrior of Chancellorsville. She had the crystal replaced by a piece of clear glass which (as the jeweller pointed out to her) cost much less and looked equally well; and for the passionate worship which she had paid her husband she substituted a tolerant affection which possessed precisely the same advantages."
Scribner's Magazine, October 1895.