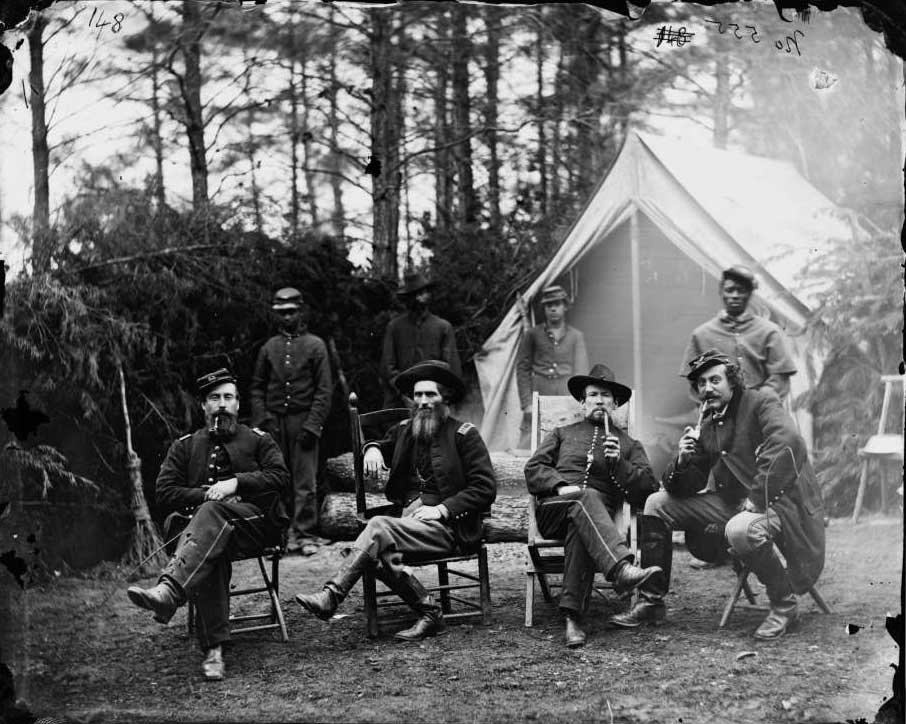 Lizzie Crowe is often described as "shallow." But it is Henry James's story that better fits the description. Lizzie and Jack Ford promises themselves to each other just before Jack goes off to fight in the Civil War. Lizzie is the ward of Jack's mother, the widowed and rigid, jealous Mrs. Ford who considers Lizzie "shallow" and no good for her son. The engagement is "an abasement incurred by John," though again the way Lizzie is portrayed is more of an abasement projected by Henry James: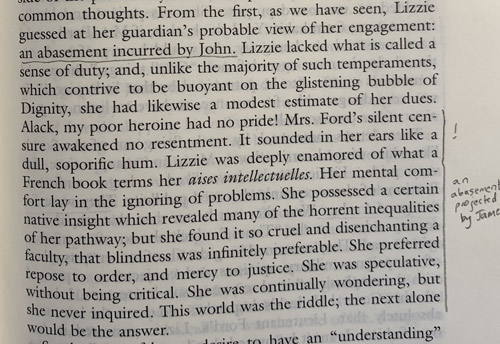 Mrs Ford sends Lizzie off to another town for a while, where Lizzie meets Bruce, an older man who immediately sets chase for her, and continues to do so even as Jack is dying nearby. Lizzie hears Jack is dying. She's distraught. "Like most weak persons, she was glad to step out of the current of life, now that it had begun to quicken into action." She is referred to as "this little girl." It's reminiscent of Updike referring to Janice as a "mutt" and "stupid." Of Lizzie, James writes: "I do not mean to say that her sorrow was very poignant, although she fancied it was." Such debasing of the character, amplified by James unnecessarily and haughtily plugging himself inw ith the first person. Imperious. And: "Her intellect was unequal to th stern logic of human events." I'm not sure what James intends with this story, why he sets Lizzie up to be such a failure. It's cruel and pointless, fictional torture. Worse: "Let us hope that her childish spirit was being tempered to some useful purpose." She promises herself to Bruce. Jack recovers, is brought home. Bruce is persistent, sidles up to Lizzie again and again. Lizzie goes to Jack's bedside, promises herself to him, he tells her he's dying, and to marry Bruce. He does so with a brief, stupid soliloquy: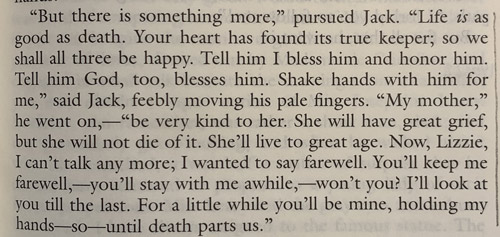 She goes on a long walk, returns, rejects Bruce, who's of course at the gate–dying and mourning be damned–but he continues the chase. End of story. The goodreads analysis below is instructive.
From Goodreads' Ronald Wendling:
The Misogyny Continues: "The Story of a Year" (1865) by Henry James
In this his second published novella Henry James, still in his early twenties, again reveals the misogyny in his first published but unsigned story, "A Tragedy of Error." In this second, acknowledged story Lizzie Crowe is forced by the Civil War to forgo the presence not of a husband, as is Hortense Bernier in "A Tragedy of Error," but of her fiancée. In both stories James appears to be imagining a woman he himself might marry and looking for reasons why he should not. We know from no less an authority than Leon Edel that James felt his masculinity threatened by the company of males who served, as he did not, in the Civil War. Here he imagines that he himself is the wounded veteran, Jack Ford, admired for his sense of duty but, from the perspective of most modern readers, clueless on the subject of women.
Jack, who has just proposed to Lizzie as James's story begins, receives his military posting immediately after we overhear the couple talking over what their engagement means to each of them. Jack, along with Mrs. Ford (his widowed mother) and the narrator, all use the word "shallow" to characterize Lizzie whose own words and behavior bear out that description. A motherless young woman under Mrs. Ford's guardianship, Lizzie has learned how simple, coy and merely "pretty" men wish women to be and decides to wear that obliging makeup. When Mrs. Ford calls Lizzie "shallow," Jack not only agrees but says that is why he loves her. No mystery about her: he can see right through to those shallow depths.
I find only one place in the story where Lizzie indicates her awareness of how socially constructed that supposed shallowness is. She asks Jack directly if he thinks it horrid for a woman to act on reason and duty rather than sentiment and, not receiving a direct reply, says she plans to spend their unavoidable time away from each other educating herself practically on their future: "Women are such fools, Jack! I mean to learn to like boiled mutton and history and plain sewing and all that. Yet when a girl's engaged, she's not expected to do anything in particular." To have acquired a man, in other words, is generally regarded as the pinnacle of female achievement.
In the one year they are apart, however, Lizzie lives up to her reputation for shallowness. While she does struggle a little toward fidelity to Jack, she can't help romanticizing her forlorn situation, shying away from the ugly realities of Jack's battlefield experience and her self-absorbed, if understandable need to find a man.
Lizzie remains, then, essentially fickle: nothing like the wife that the author of her character would need if he were to marry.
There was another obstacle to Jack's (and Henry James's) marrying a woman like Lizzie. Not only does Jack's strong willed mother advise him against marrying her shallow guardian but connives with a friend to invite Lizzie to a visit where she not unexpectedly meets her second lover, the dashing but vaguely drawn character of Bruce. James's own reluctance to marry might well have had at least part of its source, then, in the disapproval of his managerial mother.
But we might additionally look elsewhere in an effort to explain the unhappy fictional fate of Jack's and Lizzie's engagement to marry. Not only did James have real life doubts about his own masculinity and fears that his mother would reject his choice of a mate, but when he wrote this story he was still deciding whether to carry on his career as a writer. I think he considered that vocation as heroic in its way as Jack's yearlong absence from Lizzie to serve in the military. But writing, especially as much of it as James was to do, would require absence from any wife far longer than the one described here in "The Story of a Year."
Atlantic Monthly, March 1865