ƒ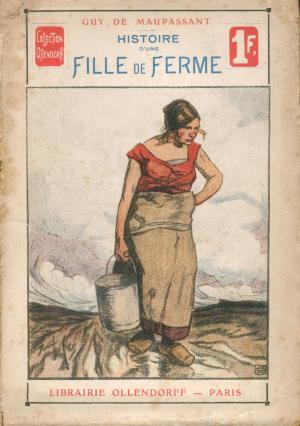 Maupassant likes his stories spiked with brutality. The domestic violence of "Le Noyé" gets gratuitous. So it does in "Histoire d'une fille de ferme," which culminates with the farmer brutalizing Rose, the farmhand, because she won't get pregnant. ("All boys are thus," London writes in the Priestly Prerogative.") That's after he invites himself to her bed and essentially rapes her to take possession of her. Six years before Rose had a fling with another farmhand and got pregnant. She went away to be with her dying mother at the convenient time when she gave birth far from her village, so she could leave her son with others to raise and return to the farm, where she becomes very skilled at making money for her farmer in hopes of getting a raise. She doesn't get a raise, but a marriage proposal from the farmer, which she rebuffs, because of her unspoken son, until he takes her. It goes well at first, then sours. He beats her up. She finally tells him why she's not having another child, since she has one already (it's a flaw in the story: what would keep her from getting pregnant again, since she's obviously fertile?) The farmer becomes all soft and happy to adopt her son. And so it's a happy ending.
As always in Maupassant stories, there are genial asides, like this: "Au milieu d'elles, le coq, superbe, se dressait. À chaque instant il en choisissait une et tournait autour avec un petit gloussement d'appel. La poule se levait nonchalamment et le recevait d'un air tranquille, pliant les pattes et le supportant sur ses ailes ; puis elle secouait ses plumes d'où sortait de la poussière et s'étendait de nouveau sur le fumier, tandis que lui chantait, comptant ses triomphes ; et dans toutes les cours tous les coqs lui répondaient, comme si, d'une ferme à l'autre, ils se fussent envoyé des défis amoureux."
But there are also awfully prejudiced lines that accent Maupassant's limitations: "Elle ne consentait pas, pour sûr, mais elle résistaitnonchalamment, luttant elle-même contre l'instinct toujours plus puissant chez les natures simples, et mal protégée par la volonté indécise de ces races inertes et molles." The story's shallow presumptions about Rose frame its soft-porn paternalism, the paternalism only amplified by the happy ending, which does not resolve the hell Rose had to go through, hiding, pretending, denying, and submitting to such denigration and violence before the farmer's epiphany–not for Rose's sake, but because he finally could have a son he could adopt and call his own. Rose remains a vessel, abused and stepped on, to the end.
La revue politique et litteraire, 26 mars 1881